Service
Integrity, trustworthiness, honesty, knowledge, expertise – Mike is committed to providing the highest level of service to both home sellers and buyers. He strives to exceed his clients' expectations and make every transaction as smooth, easy and stress-free as possible. Mike understands the industry, the community, and he listens carefully to the needs of his clients.
Experience
Mike has over 21 years' experience as a REALTOR® specializing in residential sales. From starter homes to land to oceanfront estates, Mike has the skills and expertise to broker any real estate transaction. Mike's background also includes managing a real estate company as managing broker, property management and home construction and renovations.
Education
Mike's education includes a Bachelor of Commerce degree from the University of Victoria (1994) and a Diploma in Urban Land Economics for Real Estate Management from UBC (1999).
Awards
Mike's professional record speaks for itself. He has been an MLS® award-winner for overall sales since his first year in the business. For the last sixteen years, Mike has received the MLS® Gold Award for achieving sales in the top 10% of his field.
History
Born and raised in greater Victoria, specifically the neighborhood of Oak Bay, Mike has a comprehensive understanding of the city, its surrounding areas, neighborhoods and amenities. He is also the fourth generation of his family to work for and manage Boorman Investment Co. Ltd.. The company was established in 1933 by his great grandfather, Harry Boorman.
Family
Mike has an active family home life. Married to his wife Maria Boorman and with 2 children Spencer and Evelyn. Family time includes hiking with their beloved dogs Chimo and Piper.
Associations, Memberships & Clubs
Professional Associations
---
Memberships and Clubs
Hobbies & Interests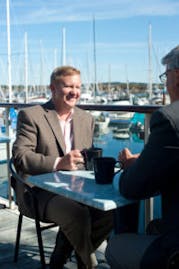 Mike's family has enjoyed boating throughout the Southern Gulf Islands with trips North towards Desolation Sound and South through The San Juan Islands to Seattle. This is another family tradition passed through generations that he now enjoys with his own.
Mike is an avid cyclist with many touring kilometers under his wheels. Mike and his riding buddies regularly enjoy a Sunday morning ride throughout Victoria.
Mike also enjoys the regular maintenance and upkeep of his personal residence and can often be found in his backyard gardening.
Why list with Mike Boorman?
18-Year Consecutive Victoria MLS® Award Winner
R.I. (B.C.) designation. Highest level of Real Estate education in Canada (Master in Real Estate)
Managing Broker
Oak Bay Company
Oak Bay Resident
Oak Bay REALTOR®
A Trusted Name
Satisfied clients